ICMRA anniversary: 10 years of strategic leadership and cooperation
ICMRA celebrates its 10th anniversary in 2023. The establishment of ICMRA dates to December 2013 when eight regulatory authorities came together to form the Coalition.
For a decade, ICMRA has brought together leaders of medicines regulatory authorities to safeguard public health by providing strategic leadership, enhancing collaboration and communication and developing approaches to jointly address shared health challenges, such as the COVID-19 pandemic.
Over time, ICMRA has expanded and increased its reach and impact, especially during the joint response to the COVID-19 pandemic. As of 2023, ICMRA counts 38 members, with the World Health Organization as an observer.
ICMRA has marked the occasion of its anniversary by producing a video providing insight into its work. The video features interviews with ICMRA's current chair, co-chairs, and a member, representing regulatory authorities from different continents.
An ICMRA anniversary infographic showcases key milestones achieved during the first ten years.
In the coming years, ICMRA will remain committed to safeguarding public health and tackling regulatory challenges in the field of human medicine. By doing so, ICMRA strives to promote access to safe, effective, and high-quality medicines for patients around the world.
ICMRA anniversary video
ICMRA anniversary infographic [PDF]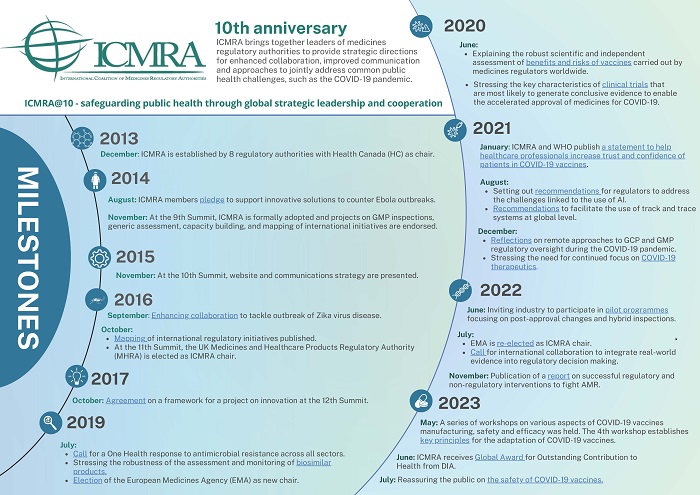 ICMRA anniversary slogan & banner [PDF]